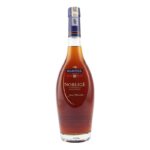 Martell Noblige (700ml)
RM335.00
Colour: Dark gold with copper hues.
Nose: Abundant fruit: Lemon, pear and prune.?Exotic delights: Vanilla pod and caramelized grapes. Wood character: Sweet myrrh, cedar and fine-grained oak.
Mouth: An elegantly structured marriage of strength and smoothness emerges. A good length
Description
The bottle itself is also pleasing ? with long, curved lines that look great displayed on top of a drinks cabinet. ?This is a versatile Cognac that can be enjoyed in many ways. ?It?s of a wonderfully high quality to be enjoyed in the traditional manner ? neat as a digestif. ?But the more adventurous might like to try it over ice, or with your favourite mixer. ?Whichever way you choose, Martell Noblige will ?oblige? ? it?s a Cognac as individual as you are as a person.
---
Only logged in customers who have purchased this product may leave a review.