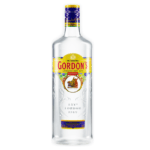 Gordon Gin (700ml)
RM169.00
Founded by Alexander Gordon in 1769, the Gordon's recipe has remained almost untouched since its creation. Triple-distilled, the gin contains juniper berries, coriander seeds and angelica root to name a few. Enjoy in a classic Gin and Tonic.
Description
The behemoth of the industry needs no introduction, surely Gordon's gin is one of the top ten-selling spirits in the world, and has been made to the same recipe since the late 18th Century.
---
Only logged in customers who have purchased this product may leave a review.