DBR (Lafite) Chateau Moulin De Duhart 750ML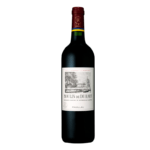 DBR (Lafite) Chateau Moulin De Duhart 750ML
RM340.00
Blend of Merlot (60%) and Cabernet Sauvignon (40%)
Beautiful deep, glittering colour. The nose is already expressive, offering aromas of cherries and ripe blackcurrants, with a hint of vanilla. On the palate, the attack is soft and full-bodied. The fruit from the nose reappears, with a deliciously tangy, voluptuous character. Long, precise finish leaving a pleasant impression of sweetness.
Description
Château Duhart-Milon's second wine is selected on the same basis as the "Grand Vin". In general, the grapes are from the younger plots in the vineyard. Moulin de Duhart has several characteristics similar to the grand vin, but with less potential for ageing as its barrel ageing period is shorter. It should be consumed younger than its more robust counterpart. The origin of the name comes from the former presence of a windmill on the Carruades plateau, next to the Duhart-Milon vineyard.
---
Only logged in customers who have purchased this product may leave a review.