Whitley Neill Handcrafted Dry Gin (700ML)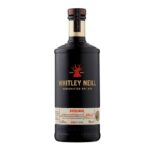 Whitley Neill Handcrafted Dry Gin (700ML)
RM255.00
Whitley Neill bottled at 43% abv (previously 42%). A London Dry Gin made with African botanicals including extracts from the Baobab Tree (known as the Tree of Life) and Physalis fruit.
It's made in a one-hundred-year-old copper pot still!
Description
Additional information
Description
Nose:?Very spicy and rich. Juniper upfront, with hints of perfumed, coriander leaves, calves leather and citrus.
Palate:?Thick with cassia bark, cut herbs, acacia honey, exotic spices and citrus.
Finish:?Long finish with spice and zest.