The Irishman Single Malt 12 Yo (700ml)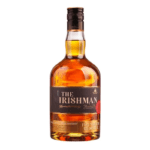 The Irishman Single Malt 12 Yo (700ml)
RM449.00
The Irishman 12-Year-Old Single Malt is aged exclusively in first-fill bourbon casks. Limited to 6,000 bottles each year, this is malty and fruity.
Tasting Notes:
Nose: From the exquisite aroma there is no mistaking the influence of the ex-Bourbon casks with the light sweet spicy notes of Vanilla, Cinnamon and even a tincture of Clove. All balanced with Apples and Pears, some charred wood and freshly cut hay.
Taste: The initial sip is a burst of rich flavours, sweet with Vanilla delicately bolstered by Black Peppercorns, reluctantly giving way to a succulent fruity mid-section before slowly fading to leave a very satisfying grassy cereal conclusion.
Finish: The fullness of the body fades quite quickly but leaves behind a lingering succulent flavour of Barley and Oak. A touch of creamy dairy fudge and Dark Chocolate adds to the complexity.
Additional information
Reviews (0)
---
Only logged in customers who have purchased this product may leave a review.