Monkey 47 Dry Gin (500ML)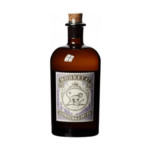 Monkey 47 Dry Gin (500ML)
RM305.00
.47% ABV
Gin from the Black Forest in Germany. It contains unique ingredients; made with 47 botanicals varietal.
Tasting reviews:
Nose: Woody, vegetable smells , fresh grassy , citrus notes and botanical sweetness like pine in the forest after the rain.
Palate: Complex, robust and powerful gin with plenty of spice, fruit and herb flavours.
Description
Additional information
Reviews (0)
Description
To the nose, there are numerous aromas, which isn?t surprising and makes it a great repeatable gin as there is always something new to discover. Aromas of distinct and pure juniper, a tangy and crisp citrus note together with a sweet, floral aroma. To the palate, with all 47 botanical, it is naturally a hugely complex, rich gin and it is hard to determine a specific taste except for maybe the zingy citrus taste upfront.
Whether with tonic, as a sling, martini, or gimlet, the unique and complex taste of Monkey 47 is an ideal basis for both classics and more eccentric cocktails.