Monkey 47 Dry Gin (500ML)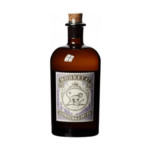 Monkey 47 Dry Gin (500ML)
RM305.00
.47% ABV
Gin from the Black Forest in Germany. It contains unique ingredients; made with 47 botanicals varietal.
Tasting reviews:
Nose: Woody, vegetable smells , fresh grassy , citrus notes and botanical sweetness like pine in the forest after the rain.
Palate: Complex, robust and powerful gin with plenty of spice, fruit and herb flavours.