Kaicho Blended Japanese Whisky (700ML)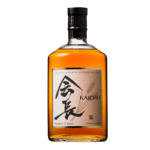 Kaicho Blended Japanese Whisky (700ML)
RM289.00
KAITO WHISKY" was developed on the slopes of Japan's tallest and the most iconic mountain. "Mt. Fuji". Creating a smooth and magnificent whisky by using the pristine waters from the "South alps" of the snow-capped mountain ranges."
"Smooth and well-balanced whisky. Aromas of honey and green apple. The silky texture and citrus flavours with a touch of oak and vanilla scent on a smooth finish fascinate the palate of everyday tasters."
Description
Additional information
Reviews (0)
Description
Kaicho Whisky was developed on the slopes of Japan's tallest and the most iconic mountain – Mt. Fuji. The magnificently smooth whisky is created by using the pristine waters from the southern alps of the snow-capped mountain ranges.
Subtly smokey and oaky, a touch of vanilla and moderate sweet aroma like fruits. Smooth but gentle. Deep and mellow taste is found after the charming entrance.
---
Only logged in customers who have purchased this product may leave a review.