Captain Morgan Spiced Gold (750ML)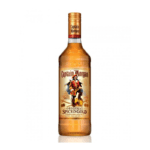 Captain Morgan Spiced Gold (750ML)
RM159.00
Sailor Jerry was an exacting craftsman. His tattoos were precise, bold and flawless. Even the riggings on his clipper ship tattoos were nautically accurate. We craft our rum to a similar standard, going out of our way to find the best Caribbean rums to make Sailor Jerry Spiced Rum. The ones that make the cut are blended together to create the ideal base for our unmatched recipe of natural spices.
Description
Additional information
Description
Avast ye! Take a sip and lift it to your nose, just the way the Captain did when he first created his sumptuous spiced spirit drink. You?ll taste notes of rich vanilla, brown sugar, warming spices with just the hint of oak. They all combine for balance, a smooth finish and the perfect drink for buccaneers and landlubbers alike.